Preventive Dentistry - Homewood, AL
We Keep Little Smiles Safe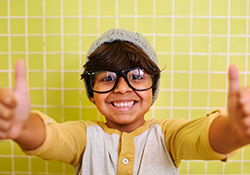 At Alabama Pediatric Dentistry, prevention is always our team's first priority for your son or daughter. By identifying potential problems at the earliest stages, we can help their confident smiles grow up strong, safe and free of damage. Dr. Bajjalieh strongly recommends that parents bring in their child for a first appointment by the age of one at the latest, so don't hesitate to call us here in Homewood, AL today!
Children's Dentistry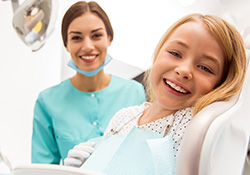 Despite what a general dentist may tell you, children's dentistry and adult dentistry are two distinct areas of care that need to be handled differently. Because our practice only sees young patients, we know exactly what they need to feel safe and comfortable in the dental office, as well as what their teeth and gums need to thrive well into the future. We can't wait to meet your son or daughter soon.
Learn More About Children's Dentistry
Infant Dental Care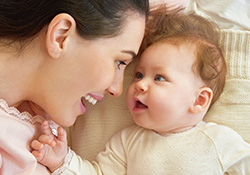 Many parents don't believe that infants need oral healthcare because they don't have any natural teeth yet, but this is a common misconception. At Alabama Pediatric Dentistry, our team can perform a gentle first examination at this young age and also provide detailed oral hygiene instructions for at-home care, such as the use of a soft cloth to wipe the gum tissue after feedings. This will prevent harmful bacterial buildup from lingering milk and formula.
Teen Dentistry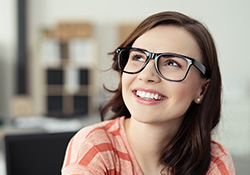 Teens have a lot to think about in everyday life, from keeping up with grades to scheduling social activities with their friends. During these busy years, it's easy to let oral health fall by the wayside as a not-so-important priority. Thankfully, our team can offer a helping hand by keeping strong, healthy smiles at the forefront. We offer several services that are a good fit for young adult teeth, including athletic sportsguards, amalgam-free fillings and even dedicated TMJ therapy for stressful habits.
Special Needs Dentistry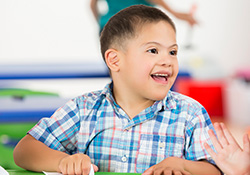 As a Board-Certified pediatric dentist, Dr. Bajjalieh has been trained in special needs treatment for young patients who struggle with developmental or physical conditions that may preclude them from receiving general care safely. Our team will provide your child with gentle attention that's personalized for their unique situation and our office features all of the necessary accommodations to make appointments safe and successful. We look forward to helping your son or daughter smile bright!
Checkups & Cleanings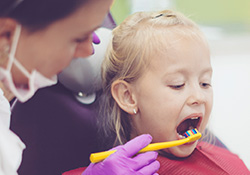 Regular checkups and cleanings are the true backbone of any pediatric dental plan, allowing our team to inspect your child's developing oral health and pinpoint concerns as soon as they appear, including areas of decay, enamel injuries, and even developmental abnormalities. Professional hygiene will also get rid of harmful plaque, tartar and small stains.
Learn More About Checkups & Cleanings
BPA-Free Dental Sealants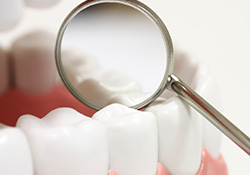 Dental sealants are a simple and effective service that can provide young teeth with an extra layer of protection during the formative years. They're placed over the chewing surfaces of premolars and molars (the back teeth), which are the most likely areas for food particles and bacteria to gather in over time. The American Academy of Pediatric Dentistry reports that the continued use of sealants can reduce the threat of cavities by up to 90%. Better yet, Dr. Bajjalieh offers BPA-free sealants, which do not contain any harmful chemicals.
Bruxism Nightguards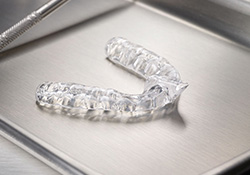 Bruxism (habitual teeth grinding) is a very common dental condition that can affect patients of all ages, including children. What's worse is that it's likely to occur while the patient is asleep and unaware of the damage they're doing to their smile. Thankfully, our team is very familiar with bruxism's tell-tale symptoms, and we'll be sure to draw attention to their presence right away during pediatric checkups. A custom-made nightguard can work wonders in protecting your child's growing smile and helping it stay safe from harm.
Athletic Sportsguards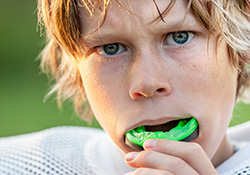 Is your child a big athlete? Our team is glad to hear that they're staying active and having fun, but parents need to remember that their growing smile might be at risk. Sports-related injuries make up a significant portion of dental emergencies every year, and any physical contact between projectiles and players could result in badly damaged teeth. Thankfully, we can design a custom-made sportsguard that provides plenty of oral comfort and flexibility while also staying tough enough to keep your child smiling proudly after the big game!
Fluoride Treatments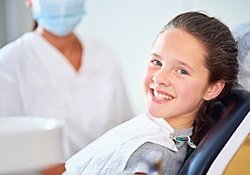 Fluoride is a mineral that's found in more places than you'd think – several food items, lots of oral hygiene products and even most likely the water that comes out of your tap. A safe amount of exposure to fluoride can actually have positive effects on your son or daughter's developing oral health, strengthening their enamel and helping prevent cavities. We offer professional fluoride applications here in our Homewood office to give our patients an extra boost of protection when needed.
TMJ/TMD Therapy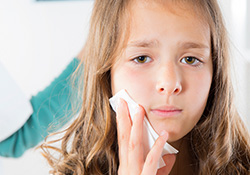 If your son or daughter is regularly complaining about jaw pain, we suggest bringing them in for a visit at our Homewood pediatric practice. They may be experiencing TMJ disorder, which is shorthand for a variety of dysfunctions that can befall the temporomandibular joint. Our team can assess the severity of their condition and recommend effective therapy options, such as the adjustment of certain teeth or the creation of a custom-made oral appliance.